Storm Damage Roof Repair Contractor in Cincinnati & Hamilton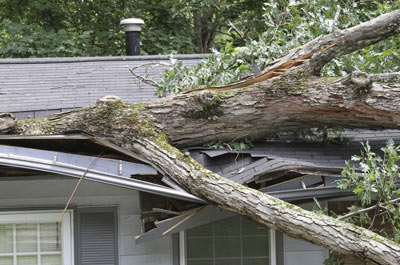 Storm damage roof repairs are often unexpected and major needs
Storm Shield provides fast, effective repairs for wind, hail and other storm damage
No homeowner ever wants to experience storm damage to their roof, but sometimes Mother Nature has other plans. In the event of major roof damage, it's important to quickly get professional repairs in order to prevent damage to the inside of your home.
At Storm Shield, our roofers are always ready to go at a moment's notice with the equipment and expertise needed to quickly and effectively repair all types of roof leaks and roofing damage. As one of Greater Cincinnati's leading roofing companies, our roofing crews are well versed in all types of roofing materials and can solve any problem you may have.
If you have a storm-damaged roof or need any of our other roofing services, call us at 1-844-385-7834 or click below for a free estimate!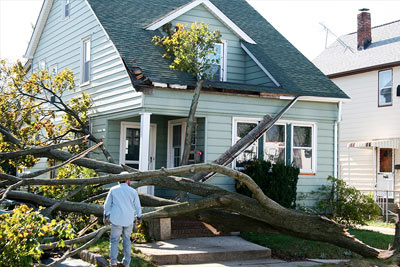 We can quickly and effectively repair your roof and get your home back to normal
Common effects of storm damage on roofs
Delayed maintenance and natural wear due to weather and UV radiation
Fallen tree limbs
High winds tear off shingles and/or roof decking
Flashing failures at roof penetrations, including around chimneys, vent stacks, and dormers
Our roofing specialists can also help to streamline communication with your insurance company and coordinate with other companies to ensure that all work is done correctly and that water damage is minimized.
Products
Headquartered in Valley Forge, PA, CertainTeed is a leading North American manufacturer of building materials and specializes in the production of high quality roofing and other materials including vinyl siding, trim, fence, railing, decking, insulation, gypsum, and ceiling products.
Many homeowners choose CertainTeed for their home installation or remodel. Here's why:
A broad selection of over 40 fade resistant colors to choose from
Shake and Shingle siding comes in a variety of blends and textures to achieve the style you want for your home
CertainTeed TrueTexture products are regarded as the most authentic wood look in the industry
Over 400 roofing options
Products are low-maintenance and long-lasting
CertainTeed Asphalt Shingles
CertainTeed manufactures a variety of high quality, durable asphalt roofing systems. Asphalt roofing shingles are the most commonly used covering on residential properties in the market. Asphalt's primary purpose in roofing shingles is to serve as a waterproofing agent. Asphalt also holds the granules in place and adds to the overall strength of the roofing shingle. The best asphalt will stay flexible and will not dry out or become hard or brittle for the expected life of the roofing shingle.
Strip Asphalt Roofing Shingles
Strip asphalt roofing shingles are single-layered asphalt roofing shingles typically designed to look like slate. Strip roofing shingles are usually the lightest weight asphalt roofing shingles available in the market. Built on a tough fiberglass base, each shingle provides resistance to blow-off and tearing.
Dimensional Asphalt Roofing Shingles
Dimensional asphalt roofing shingles are manufactured as multi-layered products and provide a thicker and richer appearance on the roof (a multi-dimensional look). Dimensional roofing shingles typically are heavier weight than strip roofing shingles and usually have improved warranty protections, which can range from 30-years to Lifetime.
Premium Asphalt Roofing Shingles
Premium asphalt roofing shingles are usually described as laminated shingles that have a differentiated appearance or functionality from traditional dimensional asphalt roofing shingles. These products may have designs that mimic "old-world" roofing shingles, like natural slate or natural shake roofing shingles. CertainTeed's Grand Manor™, Presidential Shake™ and Centennial Slate™ shingles are prime examples of premium roofing shingles that provide an enhanced aesthetic appeal.
Things to remember if your roof is damaged by a storm
In the case of severe damage to your roof, make sure you remember these three points:
Don't go up on the roof yourself: A damaged roof is a dangerous environment, and you should let a professional be the first to check it out
Cover the interior: Using plastic sheeting will protect the interior of your home and help prevent leaks
Inspect the roof visually: From the ground, take a visual inspection of your roof to note debris and possible damage
Storm Shield are your local experts for storm damage repair

Recent Testimonials

"These crews are unbelievable, they did an excellent job!"

Jon M. of St. Louis, MO
As an experienced roofing contractor in Greater Cincinnati, Storm Shield can handle any roof repair need you may have. If your home has leaks, wind damage, or a collapsing roof, make us your first call to get fast, effective repairs.
Call us today for a free estimate on any of our roofing services! We work throughout Loveland, Hamilton, Cincinnati, Mason, Middletown, West Chester, Florence, Ft Mitchell, Batavia, Fairfield, and the surrounding areas.
Looking for a price? Get a no cost, no obligation free estimate.