Replacement Windows in Cincinnati, Hamilton, & Middletown
Improve your home's appearance and energy efficiency with new windows in Greater Cincinnati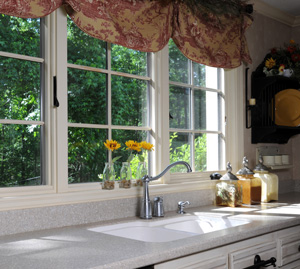 Open up your home. Replacement windows increase natural light and airflow in your home while adding beauty.
Are old, tired windows bringing down the look of your home? Are your windows sticking, drafty, or uneven? If so, Storm Shield can help! We install high-quality replacement windows in a variety of styles and materials, and our windows can give your home the upgrade it needs to improve appearance and comfort.
If the windows in your home are faded, cracked, drafty, or difficult to open and close, now is the time to consider replacement windows. New windows are not only useful for aesthetic purposes, but also for energy efficiency and comfort.
Our professional window installers can help you determine what the best style of window is for your home's needs and the look you want. We offer free estimates on all our services, so call us today to learn more about what replacement windows can do for your home!
Benefits of Replacement Windows
Energy Efficiency: Modern improvements, such as Low-E glass, have allowed windows to reduce the heat that enters your home in the summer, reducing cooling costs. Replacement windows will have significantly improved insulation over your old windows as well, which will eliminate drafts and keep your home warmer and more comfortable in the winter while lowering heating expenses.
Improved Appearance: Replacement windows are a great way to change the look of your home and give it a new, modern feel. Whether you want to change the style of your windows or simply upgrade to new ones, they will certainly improve your curb appeal. New windows are also a must when completing projects such as a siding replacement or remodeling.
Better Function: Trying to force open a stuck window or having to prop one open is a hassle for any homeowner. Your windows should never be difficult to open or have consistent drafts. If you're having these problems, replacement windows will make it easier to enjoy the fresh air and keep your home more comfortable.
Increased Value: With all the other benefits replacement windows offer, it's easy to see how they increase your home's resale value. If you're preparing your home for sale, investing in replacement windows is a great way to increase property value.
Types of replacement windows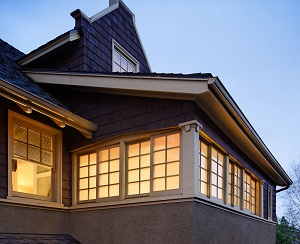 A style for every home. The right type of replacement window can complete a home's appearance.
Finding the right style of window is an essential part of any window replacement project. Every house and every room has different features that create different needs, which is why Storm Shield offers a wide variety of windows to help you match your home's design. Our window options include:
Single and double-hung
Casement
Picture
Bay and bow
Sliding
Awning
We offer our windows in vinyl, aluminum, fiberglass, and wood, giving you a complete range of options to find the best fit for your home. We also can design custom windows for homes that have a unique shape or design layout.
Upgrade to modern replacement windows today
With all the improvements that replacement windows offer your home, why wait to make an upgrade? Storm Shield can give you a high-quality solution that will make your home look great and be more comfortable and energy-efficient! Call us today at 1-844-385-7834 to get started with a free estimate. We proudly serve in Cincinnati, Hamilton, Loveland, Florence, Mason, Middletown, Fairfield, Ft Mitchell, Batavia, West Chester, and throughout the surrounding areas.
Looking for a price? Get a no cost, no obligation free estimate.